Beverly Vaughn Hock, Ed.D.
Director, Reading the World Conference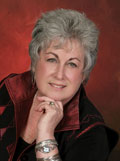 Dr. Hock is an educator and an adjunct faculty member at the University of San Francisco in the International and Multicultural Education Department. She has also taught courses in children's literature, early literacy, and storytelling at Cañada College, California State University, East Bay, Dominican University and Notre Dame de Namur University.
Dr. Hock holds a Bachelor of Science Degree in English and History in Secondary Education from the University of Wisconsin, Madison, a Master of Science Degree in Curriculum with a specialty in Children's Literature from California State University, East Bay, where she was named "Outstanding Graduate Student in Children's Literature," and a Doctor of Education Degree in International and Multicultural Education from the University of San Francisco.
Dr. Hock served as Artist in Residence for San Francisco State University's Safe Start Program, working with teachers and preschoolers. She has taught courses for librarians and teachers at the San Mateo County Office of Education and has given numerous workshops for the California Reading Association, the International Reading Association, KQED, and other organizations. She has reviewed books for Linworth's Library Media Connection, and was a contributor to The Oxford Encyclopedia of Children's Literature.
During the summer she leads children's literature study tours, meeting with international authors, illustrators, and publishers, visiting such countries as Australia, Austria, Denmark, Egypt, Finland, France, Germany, Greece, Hungary, Iceland, Ireland, Italy, Norway, Poland, Russia, Spain, Sweden, Switzerland, Ukraine, and the United Kingdom.
The Northern California Children?s Booksellers Association honored her with the Otter Award, which is given to an individual who has done an exceptional job of bringing books and children together. She was named as one of the "Outstanding Women of San Francisco" by the Iris Center, "Women Crossing All Barriers."
Currently she serves on the Board of the United States Board on Books for Young People, the national branch of the International Board on Books for Young People.