The School of Education sponsors a conference called Reading the World, A Conference Celebrating Multicultural Literature for Children and Young Adults.
The conference features guest speakers, a variety of break-out presentations by educators, librarians, authors, illustrators, and scholars, a Book Market and more. On these pages, read about how the conference began in 1998, browse through the lists of past speakers, presenters and award winners, and plan to come to the next conference!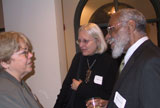 Alma Flor Ada (left) with Leo and Diane Dillon at Reading the World V.
Our Mission
To create a forum welcoming scholars, students, authors, illustrators, librarians, teachers, editors, book sellers and anyone interested in the field of literature for children and young adults. The main topic for this forum is the presentation, study, analysis and celebration of books of literary and artistic merit created for children and young adults that present the human experience with respect for its multiplicity and diversity;
Books that specifically promote un-learning biases and prejudice, counteracting racism and exclusion:'
fostering solidarity and respect for all human beings and protection of all living beings;
that question and address problems;
that do not propose merely happy endings but responsible solutions;
that, in short, invite children and young adults to see themselves as protagonists of their own human experience and unite them to embrace it with trust, love and hope to contribute to the creation of a world of equality, justice and peace.
Alma Flor Ada
Author, Professor Emerita
International & Multicultural Education Department
University of San Francisco