RECOGNITIONS
Pura Belpré Medal
American Library Association, Best Books of the Year 2000
American Library Association, Pura Belpré Award
Center for Latin American Studies, America's Commended List
National Council of Teachers of English, Notable Book in the Area of Language Arts
Video: Colorin Colorado Interview, Spanish
Video: Colorin Colorado Interview, English
See also: The Alma Project
BOOK DESCRIPTION
In this companion volume to Alma Flor Ada's Where the Flame Trees Bloom, the author offers young readers another inspiring collection of stories and reminiscences drawn from her childhood on the island of Cuba. Through those stories we see how the many events and relationships she enjoyed helped shape who she is today.
We learn of a deep friendship with a beloved dance teacher that helped sustain young Alma Flor through a miserable year in school. We meet relatives, like her mysterious Uncle Manolo, whose secret, she later learns, is that he dedicated his life to healing lepers. We share the tragedy of another uncle whose spirited personality leads to his love of flying…and the crash that takes his life.
Heartwarming, poignant, and often humorous, this collection encourages children to discover the stories in their our own lives–stories that can help form their own values and celebrate the joys and struggles we all share no matter where or when we grew up.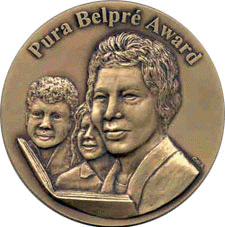 The Pura Belpré Award honors Latino writers and illustrators whose work best portrays, affirms and celebrates the Latino cultural experience in a children's book. Alma Flor Ada was named the winner of the Belpré Author Award for Under the Royal Palms: A Childhood in Cuba, published by Atheneum Books.
In a heartwarming and loving portrayal of her childhood days in Cuba, Ada describes her deep friendship with a beloved dance teacher in Under the Royal Palms. Readers meet relatives and share the tragedy of the loss of Ada's beloved uncle. Photographs enhance the diary-like portrayal of Ada's early years.
"Where the Flame Trees Bloom encourages children to discover the stories in their own lives and to celebrate the joys and struggles we all share no matter where or when we grew up," said Yolanda Bonitch, chair of the Pura Belpré Award Selection Committee.
Born in Camagüey, Cuba, Ada is professor of multicultural education at the University of San Francisco. She is a renowned author, translator, scholar, educator, storyteller and advocate for bilingual and multicultural education. Ada received a bachelor's degree from Universidad Central de Madrid in Spain and a master's degree and doctorate from Pontificia Universidad Catolica del Peru.
The award was announced January 17, 2000 during the American Library Association (ALA) Midwinter Meeting in San Antonio. The award is administered by the Association for Library Service to Children (ALSC), a division of ALA, and REFORMA, the National Association to Promote Library Services to the Spanish Speaking.
AUTHOR'S NOTE
I am frequently asked, by children and adults alike, which, among the many books I have written is my favorite. I try to explain that I cherish each of my books, because I have written each one with love and they all have taught me something about myself. But I must confess that my books of memoirs, Where the Flame Trees Bloom or Allá donde florecen los framboyanes and Under the Royal Palms, as well as those published only in Spanish, Barquitos de papel, Barriletes, Días de circo, Pin pin sarabín, and Pregones have a special significance because with them I have not only tried to capture the days of my childhood but I have honored the multiple people who made my childhood memorable. These books, like the memoirs I have written for adult readers, Vivir en dos idiomas. have been my way of thanking those who enriched my spirit and taught me so much about trying to honor each day the gift of life.
REVIEWS
Publishers Weekly
In this handsomely designed companion volume to Where the Flame Trees Bloom, Ada once again draws upon her experiences growing up in post-war Cuba. In a short introduction, the author describes her hometown, Camagüey, as a "city of contrasts"? with diverse religions and education and economic levels ("some had so much and others had very little"). The 10 stories that follow do not focus on these oppositions so much as the unique experiences of young Alma and her extended family. Several memories poignantly expose the disparity between those who have and those who have not, such as "Explorers," in which young Alma and her cousin get lost in a marabú field and are aided and fed by a poverty-stricken family. Others illustrate life lessons (for example, the impossible but gleeful task of counting bats in flight for their nightly feeding taught Alma to appreciate the process of an endeavor, rather than its completion). But the best of these stories simply recreate a poignant or humorous moment from the author's girlhood: Alma sipping from a porrón (a small clay pot) at school, lovingly filled with water by her mother; Alma's pride in her uncle's daring turning to grief when he dies in an airplane crash. Many of the stories stand well alone, but some take a meandering expository path to recount a history or explain a term. These more formal (though often graceful) tangents distance readers from the slices of life. Still, at the core of the collection, there is a heartfelt portrayal of a quickly disappearing culture and a vastly beautiful land. Ages 8-12.
School Library Journal
Grade 4-7: This simple and graceful reminiscence of a childhood in Cuba in the 1940s is a companion to Where the Flame Trees Bloom (Atheneum, 1994). Although not wealthy, the author's family lived comfortably with aunts, uncles, and cousins in a large, shared family home in the small town of Camagüey. Here any event beyond the ordinary became the focus of everyone's attention and the fuel for many days of conversation. Each chapter includes an early memory or experience of Ada's: nursing the baby bats that fell onto her porch, the production of simple and inexpensive plaster figures for nativity scenes, etc. The author writes about the contrast of wealth and poverty in her country at that time and of the people who made an impression on her, including a ballet teacher who befriended her during a lonely year in a new school, and an uncle and aunt who worked with lepers. Her observations of people lead to a series of revelations that shaped her life. Black-and-white photographs of the author and her family appear throughout. –Sylvia V. Meisner, Allen Middle School, Greensboro, NC.
The New York Times Book Review
The success of "Under the Royal Palms: A Childhood in Cuba," the companion volume to Alma Flor Ada's "Where the Flame Trees Bloom," derives in no small part from its appeal to adults as well as children. The author, a professor of multicultural education at the University of San Francisco who has written a number of children's books, understands that to get to a child's bedroom shelves, often a book must first enchant choosy adults to buy it. And enchant this one does. The slim, handsome book is divided into 10 chapters, each a self-contained story about Ada's childhood half a century ago in Camaguey, a city in the province of the same name in the center of Cuba, known as the cradle of great poets and courageous freedom fighters. The stories and the endearing black-and-white photographs of her family are woven into a greater theme: everything Ada learned about life, she explains, she learned in her small town, surrounded by family and nature. Although this feels preachy at times, most parents would surely not mind the lessons. For instance, after telling how she spent childhood evenings trying to count bats with her loving grandmother, she draws an eminently sensible conclusion that could easily be applied to many an apparently vain effort: "On the many occasions when I have later felt that I am once more trying to count bats, engaged in an impossible task, I have allowed myself to laugh, happy to remember that some of the best things in life are like counting bats: it was never the final count that mattered, but rather the joy of seeing them fly." –Mirta Ojito.
Kirkus Reviews
Of books comprising nuggets of memory there seems to be no end, and in a companion volume to her Where the Flame Trees Bloom (1994, not reviewed), Ada recounts small stories of growing up in the town of in Camagüey, Cuba. She captures with some feeling the powerful effect of scent on memory: night jasmine, coffee, ylang-ylang, and her grandmother's perfume of lavender and sage. She immortalizes sibling hurts and uncles' gifts, and writes of the childhood mystery of adult conversations partially overheard and partially understood. She is rich in family, attempting with her grandmother the impossible task of counting bats as they fly, and smashing her favorite doll when her dashing uncle dies in a plane crash. She is rich in memories of other adults, too: Madame Marie, a French-Jewish refugee; Gilda, a dance teacher, whose affection carried Ada through an impossible year at school. Some repetition does not detract, and children might be moved by Ada's exhortation to consider their own family stories. (b&w photographs) (Memoir. 9-14).
CLASP
Alma Flor Ada offers stories about Cuba that would not otherwise be available to those of us living in the United States. This collection provides the reader with a close look at an active and loving extended family. It chronicles events that would probably stand out for lots of children growing up throughout history and across geographical boundaries: living in different houses, in the city and in the country… and the tragic death of a beloved young uncle. This volume provides information on a prolific author that is accessible and helpful to readers studying Latino writers."
Booktalks
Who knows where Cuba is? Alma Flor Ada takes us to Cuba and describes her memories as a little girl there. You will feel like you are right there feeling everything she is. As you read you will be able to see the photos of her family and friends which make it come to life even more. We all have fun times in our lives and we also have tragedies happen. Alma Flor Ada describes her Uncle's plane crash and I thought I was right there. To see what Cuba is like and Alma's memories of her childhood you must read Under the Royal Palms by Alma Flor Ada. — Karen Womack, graduate student
READERS' RESPONSES
If you have enjoyed reading or sharing this book, I would very much like to hear from you. Please click here to send your comments.